DOING IT RIGHT IS BETTER THAN DOING
IT AGAIN.
WITH OVER 20 YEARS UNDER OUR BELTS, OUR TEAM WILL GUIDE YOU THROUGH A

STRESS-FREE

HOME REMODELING EXPERIENCE. GUARANTEED BY OUR

SOLID WORKMANSHIP WARRANTY!
GET YOUR FREE ESTIMATE STARTED TODAY!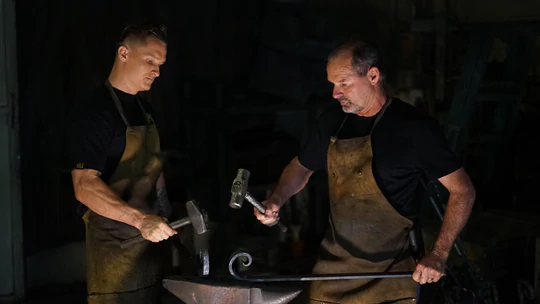 About Fireplace Design & Build
Fireplace Design & Build has been a family business owned and operated by the founder Danny Vice since 1989. Starting out of his garage in 89′ and selling door to door with only a handful of flyers but always keeping quality, value, and excellent customer service in mind. Danny's consistent effort quickly escalated the company into the best fireplace door manufacturer in the country and a premiere fireplace remodel company in their local markets. Danny now operates the business alongside his son Jake who has been helping his father since he was 11 years old. All the hard work has enabled us to manufacture our own custom doors in house right here in the USA and provide an experts hand to the community for all their fireplace needs. We are proud of our profession and are always looking for new ways to offer our customers the satisfaction they deserve through our work.
CHECK OUT THE PROCESS OF BUILDING OUR HANDCRAFTED FIREPLACE DOORS!
Jake is a respectful young man that gets the job done. Great family business that takes pride in their work. Our two matte black fireplace screens look amazing. They were efficient and professional
One word: Awesome! We had our dated fireplace Insert and doors replaced by Fireplace Door Guy and are still in awe how gorgeous it looks. Beyond our thoughts and hopes. They took our ho-hum fireplace into contemporary WOW! Plus, the entire Vise family was a pleasure to work with. We highly recommend these folks if you want to upgrade your fireplace area.
Overall a good experience. The staff was professional friendly and did a good job. There was 3 week turn around time for my doors. After 6 weeks called to inquire. The next week we finally had our doors put in. That will be my only knock on my experience but not enough to take a star away. If you happen to need your order exactly when they estimated it, I would call them to make sure they are on schedule. I would recommend this company and do business with them again
lan came out to clean my long over due, chimney. He did a great service, at a great price! Thankfully, he came on time, did a good job and did NOT try to sell me things I did not want. He also left my house without a trace of errant soot.
lan came out to my place and installed one of their Oak Wood fireplace log kits and it was awesome. I can say that even though I don't know how much others would charge | felt very good about the product, knowledge and services. lan was courteous, professional, and listened to what we said. The end result was a transformed fireplace that exceeded my expectations. Give them a shot, it will be a positive experience.
Fireplaces have long been the focal point of living spaces,...
Read More